Are you ready to escape?
Escape Rooms In The Heart Of Niagara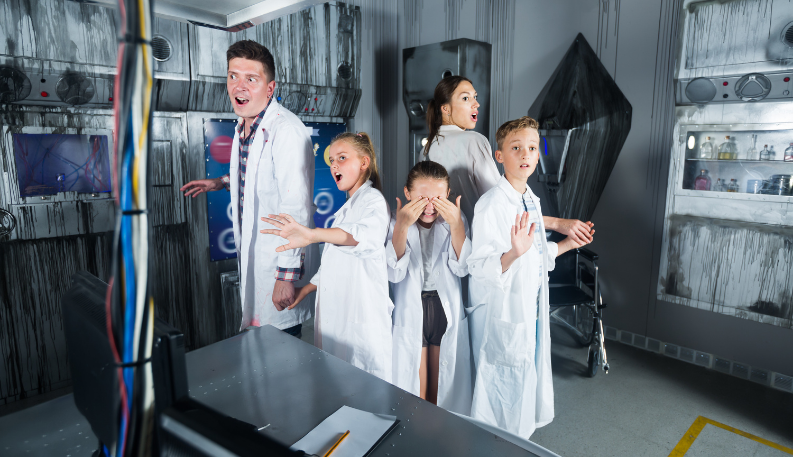 Everything inside the room immerses you in the atmosphere of adventure: incredible decorations, stunning effects, and shocking plot twists.
You don't just solve the puzzles; you unravel a story during your adventure.
You get a private experience with your friends – just the closest and most trusted people, no strangers.
Corporate
A New breed of
corporate team
building
We all want to be known as the "cool boss" … Well, here's a perfect opportunity to claim your new title. Bring your team to The Panic Room Niagara and boost morale while also learning valuable lessons in communication, organization, and critical thinking.
With a massive capacity of up to 30 players at a time, we are the ultimate team building location that's perfect for you!
Adventures for everyone!
OUR GAMES ARE PERFECT FOR
Friends & Families
Experience the exciting adventure with your family and friends!
Hobby Detectives
You are a hobby detective yourself or have a very special idea for your date.
Trendsetters
Are you bored and looking for new challenges?
Teambuilding
Corporate event to build the team spirit in your company.
Leave the parents behind!
FIRST KIDS ONLY ESCAPE ROOM!
Reviews
What The
Players Say
We Had a blast! Great fun. It was the wife and I and our 2 teenagers. We would definitely do another one. If your looking for something indoors to do try it.
We absolutely loved this escape room and we are looking forward to doing more at this location. Staff was very helpful and friendly. The location was extremely clean and followed all CDC guidelines for COVID
I brought my sales teams in last night for an after the holidays outing. Anthony and Adam were super nice and explained how the process works. We were in the Al Capone Speakeasy. The hour flies by! The clues were excellent. It was challenging but a great time.
FAQ
Find answers to all of your questions here
What is a Panic Room?
'Panic Rooms' or 'Escape Rooms' are an exciting form of entertainment where a team of family, friends or colleagues can enter an immersive adventure experience. By searching the room for clues, hidden items and solving puzzles the main aim is to escape before your 60 minutes are up.
If I'm late, can I still play?
If you arrive late for your booking we reserve the right to deduct time from your game however we will always try our best to give you the full 60-minute experience.
If you arrive too late for your booking to be run the booking is classed as a no-show and no refund will be given.
I need to reschedule my reservation!
Due to us being a live event we are unable to guarantee any reschedules or cancellations.
Please email us when this need occurs and we will attempt to organise this for you.
No refunds are provided.
How many people can play at once?
Each of our rooms can take different amounts of players:
Al Capone's Speakeasy (2-8)
The Z Virus (4-12)
The Cellar (3-6)
The Heist (3-5)
Kidz-Escape (4-8)
Do I need to book in advance?
Due to staffing, bookings are required to be made in advance, we always try to accommodate as best as possible so it's best to call or email us to confirm that an experience can be run for you at your desired time.
Is it scary?
The Panic Room experience is nothing to be afraid of, there is absolutely no scares or live actors. Just you, your friends, 60 minutes and a mystery to solve! We are not a horror attraction!
I have claustrophobia/anxiety, will I be ok in the room?
This will depend per person however we believe that most people will be fine, for health and safety the door is never locked so you may exit and re-enter at anytime.
The rooms themselves are pretty large so if you feel claustrophobia or anxiety may be an issue we would recommend booking with a smaller group. Alternatively, you can come to us before booking and check out the room beforehand to decide if you are comfortable with it.
Are there any age restrictions for players?
Players younger than 12 years old will require an adult present except in Kidz-Escape
The Cellar is strictly for 16+
Most of our rooms are suitable for ages 8+, see individual room pages for further information.
What time should I arrive?
Please try to arrive 10-15 minutes before your booked session for your briefing and introduction.
What, if anything, should I bring to the game?
You don't need to bring anything except you and your team!
Is there wheelchair/disabled access?
Currently, Al Capone's Speakeasy & The Cellar are accessible.